Our Mission
 At the Law Offices of Elsa W. Smith, our mission is to empower women through estate planning.
We are committed to helping you to leave the overwhelm in the past and
create a foundation for you to
build your legacy.
Core Values
Our success is rooted in our core values. They are our North Star.  These values form the foundational principles that define what we stand for as a law firm and as individuals.
---
Integrity
We conduct ourselves with honesty and integrity. We honor the trust our clients place in us.
We do our work with regard for our duties to our clients, colleagues and team members.
Excellence
We relentlessly strive for outstanding results in everything we do.
We ask for feedback because we genuinely care about the service we render.
Respect
We treat others the way we would want to be treated, with courtesy and kindness.
Impact
Our goal is to make a positive difference in the experience of our clients and those around us.

FOUNDER & PRINCIPAL
Elsa W. Smith
Elsa W. Smith is the founder and principal of the Law Offices of Elsa W. Smith, LLC. Elsa focuses her practice on wills and estate planning and startup business consulting. She counsels individuals, families and business owners in the creation of wills, trusts, financial powers of attorney and advance directives. In addition, Elsa assists small and emerging businesses with contract drafting and review, corporate organization, drafting business policies, expansion and growth consultations, and business succession planning.
The Law Offices of Elsa W. Smith, LLC is proudly minority and woman-owned whose mission is to protect you, your family and your business. Elsa is a native Spanish speaker of Afro-Cuban descent. As a small business owner herself, Elsa understands the challenges your business faces. Elsa has more than 20 years of experience as a lawyer. She holds a Bachelor of Business Administration and Juris Doctorate from the University of Miami. Elsa is licensed in Maryland and District of Columbia. Her main office is located in Annapolis, Maryland.
Elsa has an established and noteworthy record of service in professional and community organizations. Elsa donates her time as a volunteer estate planning attorney with the Pro Bono Resource Center of Maryland. She is currently on the Executive Board of the American Business Women's Association-Maryland Capital Chapter. She is a member of the Bar Associations of Anne Arundel and Prince George's counties. Elsa also serves on the Estate & Trusts Section – Diversity and Inclusion Committee of the Maryland State Bar Association, among her other organizational memberships. Over the years, attorney Elsa W. Smith has been a guest on radio, television and internet programs, and featured in printed publications. Elsa has a YouTube channel at elsawsmithlaw dedicated to providing free information on wills, estate planning and startup business topics.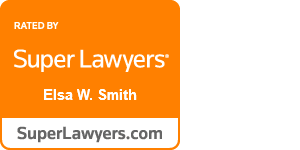 Admitted to Practice:
District of Columbia, 2007
Maryland, 2010
U.S. District Court for the District of Maryland, 2014
Supreme Court of the United States, 2017
Florida (Inactive)
Education:
University of Miami, J.D.
University of Miami School of Business, B.B.A.
Languages:
English
Spanish
Professional Associations & Memberships:
Maryland State Bar Association (2010-present, Civics & Law 2016-2017, Diversity & Inclusion 2016-present), Anne Arundel County Bar Association (2018-present), Prince George's County Bar Association (2012-present, Board of Directors 2014-2018), Bar Association of Montgomery County (2015-present), Maryland Criminal Defense Attorneys' Association (2012-2018), District of Columbia Bar (2007-present), J. Franklyn Bourne Bar Association (2013-present, Judicial Nominating Committee 2016-2017), Women's Bar Association of Maryland – Prince George's County Chapter (2015-2017), Maryland Hispanic Chamber of Commerce (2013-2014, 2018).
Annapolis Office
1125 West Street, Suite 200
Annapolis, MD 21401
Phone: 410-995-7719
Email: info@elsawsmithlaw.com
Here to Serve You
We serve the following Maryland localities: Anne Arundel County including Annapolis and Glen Burnie Courts; Prince George's County including Hyattsville and Upper Marlboro Courts; Montgomery County including Rockville and Silver Spring courts; Maryland federal courts including both Baltimore and Greenbelt, and Washington DC.